Burn Your Mortgage: Saving Big Bucks on the Big Expenses (& Book Giveaway!)
A little over a year ago, I achieved financial freedom when I paid off my 30-year mortgage in just 3 years – and I did this by the ripe old age of 30. I celebrated by burning my mortgage papers on national TV. My story went viral, making headlines around the world. I received dozens of emails both congratulating me and wanting to follow in my footsteps. This inspired to me write my new book, Burn Your Mortgage: The Simple, Powerful Path to Financial Freedom for Canadians.
With home prices skyrocketing in cities like Toronto and Vancouver, many feel like  the dream of homeownership is out of reach. I'm here to tell you that it's not. I may have paid off my mortgage in 3 years, but that doesn't mean you have to. There are simple yet effective lifestyle changes that anyone—from new buyers to experienced homeowners—can make to get their foot in the door of the real estate market and pay down their mortgage sooner.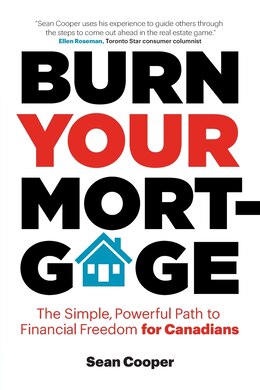 Here are some of the best money-saving tips from my book:
The Latte Effect is Overblown
A lot of personal finance books talk about the "latte effect." They tell you to give up that daily coffee at Starbucks. The message of my book is different. You work hard for your money, and the last thing you should do is deprive yourself of the things you enjoy in life – like your Starbucks and iPhone. At the end of the day, your daily coffee isn't costing you that much (unless you're going three times a day). It makes much more sense to focus your efforts on saving money on the big expenses, such as transportation and gas. If you can save 10 to 15 per cent off both, you can easily come up with an extra $50 to $100 a month in savings. That's money you could be putting towards a down payment or paying off your mortgage sooner.
Saving Big Bucks on Groceries
Recurring expenses like groceries can really add up at the end of the year, especially when you're spending more money than you need to be. It can be tough to break bad habits, especially when it comes to our money. Are you in the habit of shopping for groceries at the high-end supermarkets? Paying $1 to $2 more for every item really adds up at the end of the month. By shopping at a discount supermarket, you can still enjoy the same breakfast cereal, but for less money.
I'm also a big fan of buying non-perishable items on sale and in bulk. We live busy lives these days; the last thing we have time to do is make daily visits to the supermarket. By making a shopping list and buying enough of a sale item to last for two to three months until the next sale, not only will you save time, you'll save money, by never paying full price for anything.
Saving Big Bucks on Transportation
When I was paying off my mortgage super-fast, I didn't own a car. This worked for me because I was single and lived close to public transit. I realize this just isn't realistic for most families. It's hard to get by without a car if you're a family of four. But that doesn't mean you can't save money on transportation.
It's all about asking yourself the important money questions: Does your family really need two cars? Could you get by with only one? With that one vehicle you do buy, instead of driving a new car off the lot and having it lose half its value, why not buy a two-to three-year-old used car from a registered car dealer? You'll still get a reliable vehicle, but for less.
Auto insurance is another major cost for drivers. Have you ever considered bundling your home and auto insurance? You can save big bucks and still enjoy similar coverage. Also, be sure to shop around with an insurance broker to make sure you're getting the best rates.
These are just some of the money savings tips that I share in my new book. By following my tips you'll be well on your way to glorious mortgage-free financial freedom and be able to celebrate by holding your own mortgage burning party one day.
Heritage Perks! Burn Your Mortgage is available for 50% OFF online at Indigo from March 6th to March 12th! Hurry and take advantage while this deal lasts! 
PLUS! We're giving away a signed copy of Burn Your Mortgage to one of our lucky blog readers!
— This contest is now closed. Thank you for participating! —
Contest Rules and Regulations:
Giveaway starts March 8th, 2017 at 5:00PM EST and ends March 15th, 2017 at 11:59PM EST. Open to residents of Canada (excluding Quebec and Nunavut) aged 18 years and older.
Prize consists of:
1 Copy of "Burn Your Mortgage" Book by Sean Cooper
Total prize value: Approx. $25
Winner will be selected at random and be notified by email. Winner will have 48 hours to respond, and correctly answer a skill-testing question, before a new winner is selected. Please note that Heritage Education Funds is not responsible for sponsors that do not fulfill their prizes. We represent each sponsor with the expectation they will fulfill their prize, and in a timely manner.
The products offered for the giveaway is free of charge, no purchase necessary. This promotion is in no way sponsored, endorsed or administered by, or associated with, Facebook, Twitter or Instagram, and they are in no way associated with this giveaway. By providing your information in this form, you are providing your information to Heritage Education Funds and the prize sponsor.
---
---
---